Sky / Planets / Stars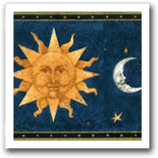 Sky Planets Stars vintage wallpaper patterns feature Blue Sky and White Clouds in varied colors. There are designs with moons, stars and planets. Suited for Nursery and Bedroom ceilings and walls. Antonina Vella, Carey Lind.
 
If you don't find your favorite vintage wallcovering pattern below, see additional designs at our eBay store.
Showing all 8 results