Crafts / Scrapbooking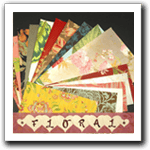 Off the Wall Paks are packages of vintage wallpaper sample sheets to use for crafts or scrapbooking projects. There are 17 sheets per Pak–11 large sheets and 6 small sheets including some borders on occasion. The Paks are coordinated by color and style. There are 9 different style categories: Floral, Damask, Stripes, Textures, Modern, Architectural, Novelty,-Male, Novelty-Female, & Assorted.
 
If you don't find your favorite vintage wallcovering pattern below, see additional designs at our eBay store.
Showing all 9 results