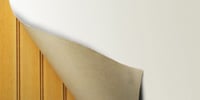 Fix a Problem Wall with Wall Liner
Have a wall that's cement block, brick, ceramic tile, textured walls or grooved wall paneling? A blank stock, non-woven Wall Liner is a great way to minimize wall repair and make troubled walls look like new again.
When new wallpaper is hung or paint is applied to the liner, walls will look smooth and even. What's even better? Liner is easy to hang. Using a pre-mixed, clay-based adhesive, the liner can be hung horizontally (railroading) or vertically. If you hang it with a double cut technique and then prime, no seams will show.
Commercial liner is packaged in double rolls that are 27 inches wide and 24 feet in length. For the Love of Wallpaper carries the two major brands of wall liner, so check them out.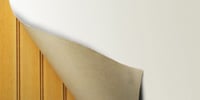 So, here are the basic steps:
1.) Prime your surface
2.) Apply wall liner – pre-pasted & un-pasted options are available
3.) Final coating of primer
Mela