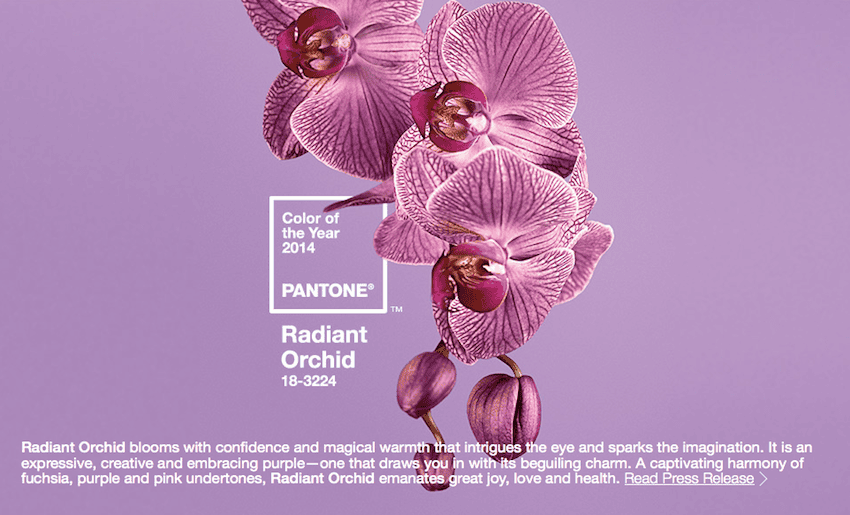 2014 Color of the Year
Radiant Orchid It Is
Radiant Orchid is the color of the year
And with this hue there is nothing to fear
For it is bold and bright and makes everything right
From walls to floors it takes all to a new height
Look for it in wallpaper, furniture, make-up and more
iPad covers, bedding, clothes to the core
It works with greens, yellows and even taupe
And exudes confidence and universal hope
So check out the options available to you
And change up your home with a new view
Well the votes are in and according to Pantone, the color services company, and the developer of the Pantone Matching System (PMS), a system recognized as the color standard around the world, Radiant Orchid (18-3224) is the 2014 Color of the Year, following on the heels of Emerald-2013, Tangerine-2012, Honeysuckle-2011, Turquoise-2010, Mimosa-2009 and Blue Iris-2008.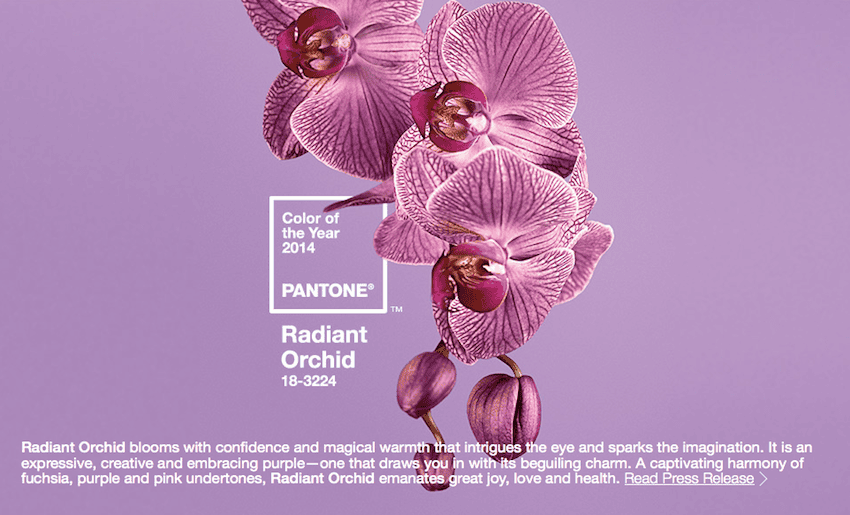 What does being color of the year mean? It means that the color in question becomes the inspiration for many different consumer items–be it wallcovering, paint, clothing, housewares, furnishings, fabrics, linens, flooring, and even cosmetics. Radiant Orchid is the new 'it' color and look for many new patterns incorporating Orchid with contrasting or compatible colors such as Olive and Deep Green or Turquoise, Teal or Light Yellows. "Likewise, this vibrant color is sure to liven up neutrals including Gray, Beige and Taupe. Uplifting and bold without being overpowering, Radiant Orchid re-energizes almost any color palette and provides a unifying element for diverse spaces".
According to Leatrice Eiseman, executive director of the Pantone Color Institute, "Radiant Orchid blooms with confidence and magical warmth that intrigues the eye and sparks the imagination. It is an expressive, creative and embracing purple–one that draws you in with its beguiling charm. A captivating harmony of fuchsia, purple and pink undertones. Radiant Orchid emanates great joy, love and health. An invitation to innovation, Radiant Orchid encourages expanded creativity and originality". And, what a warm contrast to the cool color of 2013.
The Color of the Year is determined based on a review of the colors in use around the world and how appropriate that Orchid has been selected in that it is consistent with new optimism as the economy rebounds worldwide. There is heightened interest in creating dramatic surroundings and Radiant Orchid plays to this theme. Whether you use it on your walls, floors, bedding, clothing, or make-up, it is a color that shouts Confidence.
"A dazzling attention-getter, Radiant Orchid permeated the runways during the Spring 2014 fashion shows and is showing up in new make-up colors for face and nails". And, what a perfect color for a feature wall of wallpaper enclosed within decorative wooden molding.
Our in-store inventory of over 4000 wallcovering patterns includes a number of patterns that are orchid in color or have an orchid motif. A perfect example is our Orchid Wall Mural featured below–it is a realistic representation of the flower and has a touch of Orchid color that blends beautifully with the Green stems and pods and offers a dramatic contrast to the Red-Orange highlights.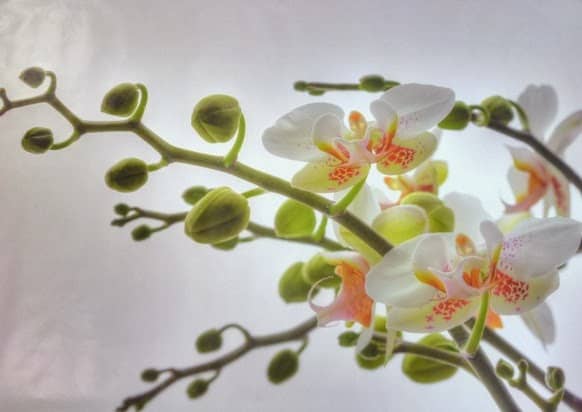 In addition, we have many more designs that include an orchid-like color. Throughout the month of January we will be featuring selections from our showroom inventory that are compatible with Radiant Orchid.
The Pantone Matching System Color of the Year appears in every imaginable configuration as evidenced by the following photos showing variations in bedding and furnishings.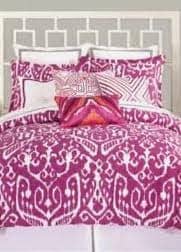 So, take this opportunity to start off the new year on a dynamic, new note and incorporate a touch of Orchid into your home.
Wishing all readers a healthy, happy New Year–one filled with joyous moments and great achievements.
Mela